Today, Reddit is the 8th most visited website on the Internet and is fast becoming one of the largest communities in the world. Reddit has even been labelled in an article aptly named Google Search is Dying as being the most popular search engine in the world.
Unemployment rate has declined, and the job market has shifted in favor of the job candidate. Reddit utilizes boolean search, which has been a tool of recruiters for decades.
Reddit is also home to an enormous talent pool. Understanding how Reddit works will help recruiters level up, with a potential goldmine of untapped talent. When it comes to finding candidates for jobs, Reddit itself has a very powerful boolean search and an enormous audience of technical talent. With close to 30 million unique monthly visitors to technical subreddits, recruiters can locate members of the community to engage with regarding potential roles.
The most important thing to consider is that it is not primarily a platform for job search. Candidates have to approach Reddit in a different manner if you're going to be successful in sourcing talent on Reddit.

Redditors are famous for being a tough crowd. Community members value authenticity. The first thing these members are going to do is to look at your karma score, and your previous comments, and Redditors are going to put you through a lot of scrutiny if you don't contribute in a seemingly valuable way.
What is Karma score?
A Karma score is basically something that any time you post on a subreddit, the users are able to vote up or vote down according to their opinion on a post. If a post gets upvoted, it can move a post up to the top of a subreddit. Essentially, someone with a higher karma score is an indication of how active a member is of the community.
Being active within technical communities
It can pay off for recruiters to be active within reddit communities, of which there are thousands. For example, a quick peruse of this Technical Subreddits page provides a list of communities for individual topics such as Windows, Linux and other operating systems. For specific development communities, this list of Programming Subreddits may provide inspiration for location of candidates. If you are looking for a specific technology expert, these two links will likely be where the most active of experts will participate.
Using boolean search for finding candidates
Let's say you are searching for Javascript experts actively distributing their services on Reddit.
From the top search bar, a quick search provides dozens of results:
Extending our search can also extend our pool of candidates:
While using Boolean "OR" operators can extend the search for specific skills:
"java"  ("for hire" or "searching for job")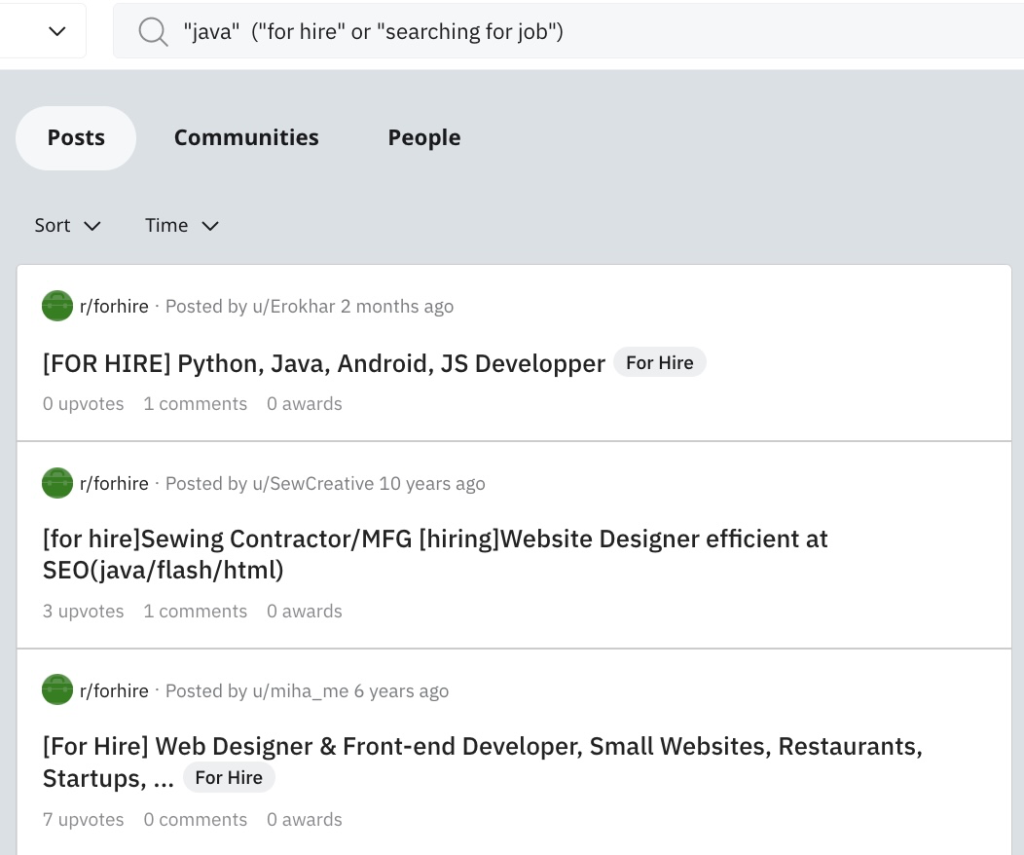 Recognizing candidates with exceptional community contributions
Reddit coins had been introduced to award exemplary posts, comments or contributions to community. Reddit decided that the best way to keep their users engaged, was to gamify their platform and offer awards. In recent times, it has even been suggested that Reddit may introduce a cryptocurrency or blockchain-backed award system.
Finding candidates who have been actively contributing may be as simple as spotting a user's Karma, or by clicking their username and viewing their most recent comments and posts.
I've found a candidate, now what do I do?
This is very different in comparison to typical ways to reach out to a candidate, using LinkedIn for example, where recruiters are of course commonplace.
It's over to you, as the recruiter, to figure out the best way to interact with a potential candidate. A swift direct message into the user's inbox is likely to capture most interest with a strong subject as well as an introduction to yourself and/or your company, as well as why you were most interested in the candidate with regards to a potential application for a job.
It's important to use this opportunity to specify why you identified the candidate. Reddit, is after all, a community that rewards positive feedback and engagement, and this will likely help your case when communicating with a lead.
Wrapping up
You have to genuinely be active on Reddit for this to work. That means not just posting your jobs on subreddits, but also be active in other communities too. If you're someone who is interested in football, or interested in brands that you're passionate about, it would be important to be active within those subreddits. Users on Reddit will evaluate your posts and comments from viewing your profile.
There are many places where recruiters can give back to the community, for example CV help – there are subreddits dedicated to this topic. If you are an experienced recruiter, you can of course help those looking for some assistance with their curriculum vitae.
Do also be cognizant of the fact that communities do specify that recruiters are not allowed. You are never going to be able to interact with the whole of Reddit, it is just unrealistic. Focus on small communities, follow their rules, and you should be in good shape. Do not spam, or do anything in high volume, as you may actually end up on the recruiting hell subreddit!